Trunkshows & Workshops
If you have any questions, require more information or would like to set dates for your group, please feel free to contact me by calling or by email at sherri@bordercreekstation.com
To view my Event Contract, click here: BCS PDF Fillable Contract
Please do not send a contract without pre-approval of your requested dates.
Lectures and Quilt Trunkshow Presentations
A Journey of a Quilter: Threads that Bind: With over 40 quilts to share (including a few of my own antique collection), viewers are taken through a personal journey from quilter, teacher to designer. It is truly a ride of discovery from childhood's fascination with quilts, the love of fabric, friends and definitely the craft. (45 minutes – 1 hour).
Settings & Borders: Are you ready to set those blocks into a design of your own? The importance of balance in a quilt's visual space, how to keep it simple when decoding the math and some basic rules of thumb of quilt designing. Getting it all together in a unique and personal way is key to Sherri's distinctive teaching style – there is always a way to process your creative thoughts and ideas into a finished project just let your imagination soar! Includes a multi-page handout for all.With over 35 quilts to demonstrate with. (This lecture is not easy to keep under 45 minutes and requires more concentrated thinking from the audience).
Border Creek Workshops
I am a hands-on teacher with many years of teaching experience. My classes focus on mastering solid techniques,
understanding the quilt design and most importantly taking the mystery out of the quilt making process so quilters will have confidence to complete the projects. I strive to provide the very best in detailed, illustrated instructions with Border Creek Station patterns and most importantly to make the classroom fun & relaxed.

All Border Creek Station Workshops include the importance of perfect seam allowance, trimming to tidy techniques and understanding basic 'quilter's math' to adding pieced borders & up-sizing so that it will work. Additional tools, where recommended are optional but will make the job simple and perfect and will be taught. Traditional or additional techniques are reviewed & taught as well, were applicable.

The BCS pattern that is being taught during the workshop is required for the workshop. An original copy of the pattern is included in the workshop cost for each participating student.
Fabric requirements and recommended supply lists will be provided.
Any Border Creek Station pattern makes a great workshop with lots ot learn and explore. The following are great followups to my presentations.
Please feel free to discuss your groups' needs for a workshop designed specifically for you.
A Checkered Past
A scrappy quilt with on-point setting and easy pieced borders. Great workshop to review precise piecing, different techniques and understanding the quilter's math to adding pieced borders and up-sizing.
This is a great follow up to the Trunkshow Settings & Pieced Borders as there is great discussion for the setting how & why of this particular design.
Pattern: BCS 1121 Quilt size: 71" x 71"
---
Abigail's Freedom Garden
With these 6" pieced blocks, the perfection of piecing is reviewed, skill techniques for quarter-square triangles, machine applique and the ins & outs of scalloped borders. One half day will teach applique - machine techniques of invisible heirloom machine and fusible with blanket stitching.
This is a great follow up to the Trunkshow Settings & Pieced Borders as there is great discussion for the setting how & why of this particular design.
Pattern: BCS 1123 Quilt Size: 73" x 86"
Captain Brodie's Brigade
A scrappy quilt with 7" blocks that are paper pieced for perfection. Learn simple tips and techniques that take the nightmare out of paper piecing and learn to love this great technique that gives such perfect results. This block is very easy to paper piece and a stunning example of how scrappy quilts look so beautiful.
Pattern: BCS1122 Quilt Size: 57" x 74"
---
Miss Lacie's Promise
A very interesting quilt for any fabrics - wonderful as a scrap quilt, civil war fabrics or made with beautiful batiks. As the cuts are 2-1/2" and 1-1/2" strips, it would be easy to use Jelly Rolls and Honey Buns for scrappy stars from a fabric line – so simple!
Learn tips for conquering perfect set in squares, on-point settings & piecing with diamonds with no fear!
Pattern: BCS1120 Quilt Size: 75" x 103" or 103" x 103"
---
Sunshine, Lollipops
Bursting stars create a stunning effective secondary pattern. Precut 2-1/2" strips are recommended. Students will master the use of the Easy Angle ruler for quick half-square triangle units. This also makes an awesome scrappy quilt using medium & dark fabrics with one background of your choice.
Pattern: BCS1137 Quilt Size: 84" x 84"
---
Magical Pinwheels
This is a great quilt to make not matter what fabrics you decide to use - scrappy, batiks, country, baby tones...anything works. Learn to make flying geese - and love them!
Pattern: BCS1114 Quilt Size: 59" x 74"
---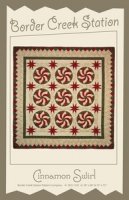 Cinnamon Swirl
Reminescent of cinnamon candies available at holiday time this block makes my mouth water for that yummy flavour – one of my all time favourites.
This block is not a curved pieced block but rather appliqued to make it a great class for all skill levels.
Techniques for the pieced sashing and border are taught and samples will be completed.
Pattern: BCS1135
Size: Table Runner: 36" x 66" & Quilt Size: 72" x 72"
Save